This past weekend I experimented with three new recipes! Two of them I sort of made up myself and the third was straight out of Bethenny Frankel's book, "Naturally Thin." I figured I would use my
BB's THOUGHTS ON THURSDAY
to share these great recipes with you all!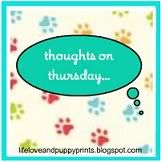 Stroganoff Meatballs
Ingredients:
-1 lb ground turkey
-Half an onion (chopped)
-1/4 cup Whole Wheat bread crumbs
-Garlic (chopped and to taste)
-2 large egg whites
-2 tablespoons Worcestershire Sauce
-Whole Grain Rice
-2 cans Cream of Mushroom Soup
-1 cup Skim Milk
-1 cup Fat Free Plain Greek Yogurt
-Salt and Pepper (to taste)
-2 tablespoons Olive Oil
Preparation:
-Cook Rice according to package
Meatballs:
-Preheat oven to 450
-Combine ground turkey, onion, garlic, salt and pepper, bread crumbs, egg whites and olive oil in to a large mixing bowl and mix well. I have found using your hands is the best way to combine the ingredients without completely mashing the meat (which you don't want)
-Take large spoonfuls of meat combination and lightly pack them in to round balls. *You don't want to smoosh them or pack them too tight or they get dry! I made 10 larger meatballs...make them whatever size you want!
-Bake the meatballs on 450 for about 15-20 minutes. Make sure to rotate them while they're cooking.
Sauce:
-Combine Cream of Mushroom Soup, Greek Yogurt and Skim Milk in a large saucepan.
-Heat until sauce us hot and has thinned
-Finally, add cooked meatballs to the sauce and simmer for 5 minutes so the flavors get all mixed together! Serve meatballs and sauce over rice
*I'm sorry I don't have a finished picture for you....we were too hungry and I forgot. Also, this recipe made a ton of sauce. It worked out because I used the extra on some vegetables, but if you want less sauce I would do just one can of Cream of Mushroom and maybe reduce the yogurt and milk a little.
Bethenny Frankel's Cucumber Salad
*Whisk together:
-1/4 cup apple cider vinegar (or less, if you want)
-1 tablespoon of chopped fresh dill (or your fave herb)
-1 teaspoon honey
-1 teaspoon lemon juice
-Salt and pepper to taste
(
I made a double batch...so I just doubled everything
)
*Pour over sliced cucumbers
This was so yummy (I served it with the stroganoff meatballs). It was really refreshing and is a great cleanser. It was a little too vinegary for us, so next time I think I'll use a little less.
Kristin's Amazing Chili!
Ingredients:

-I lb ground turkey
-1 can Kidney Beans
-1 can Black Beans
-2 8oz cans of Tomato Sauce
-1 packet McCormick Reduced Sodium Chili Seasoning
-Chopped Garlic (to taste)
-Frozen Corn (not pictured)
-Celery
-Carrots
-1/2 White Onion
-1 Red Bell Pepper
-1 tsp Olive Oil
-Cheyenne Pepper (to taste)
-Red pepper flakes (to taste)
-Chipotle Tabasco Sauce (to taste)
Preparation:
-Chop vegetables (I just chopped up everything but ended up using about half of the total veggies. So add as many or as few to your chili as you want....just make sure not to add too much or the chili will be super thick)
-Add all vegetables (except for onions) in to a large steamer. Steam for appx 20 minutes (or until veggies are soft). Again, I cooked them all but didn't use it all.
-Heat 1 tsp of Olive Oil and saute onions, garlic and red pepper flakes
-Drain and strain the beans....get rid of all that yucky preservative junk that it comes in!
-Brown the ground turkey
-Add steamed veggies and onions to the ground turkey (make sure to mix them up well)
-Add tomato sauce, McCormick's seasoning, cheyenne pepper, and Chipotle Tabasco Sauce. Mix well! Make sure to taste so you know if you've seasoned enough!
-I let the chili sit and simmer on low heat for about an hour so that all the flavors got incorporated.
You know I couldn't let Thoughts on Thursday go by without a couple random thoughts....
*Not to toot my own horn but this chili was GOOD! REALLY GOOD!
*I have been a terrible blogger in terms of reading and commenting on all of your blogs! My plan is to get caught up today! So I apologize for being so neglectful!
*I have quite a few new followers! WELCOME! I am so excited you care enough about what I have to say to follow this little blog! :)
*Finally, make sure you go to my
BB's
blog
Life, Love and Puppyprints
and link up with
Thoughts on Thursdays!