I think I may have an addictive personality, because I go on tears where i eat, watch or use the same things over and over and over and over. I definitely have some obsessions and things I am currently crushing on, so I'm using
BB's Thoughts on Thursdays
to share them with you!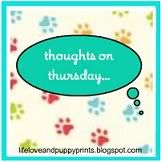 Since I gave up pop in November I have been hardcore addicted to the Peach Mango Sparkling Water from Target! It is sooo yummy! They're HUGE so they last me hours, they only cost $.89 and the carbonation totally fills that pop void.
I cannot and will not stop listening to Femme Fatale.....seriously? How amazing is this album?! I think it could be Brit's best yet and Til the World Ends is quickly becoming my favorite Britney tune of all time. OBSESSED.
Every time I pop in to Target to get my sparkling water I also grab a bag of the Market Pantry Mixed Fruit Fruit Snacks. I don't know what it is and I know it's super random but I LOVE these damn things!
I love the show Castle. J always makes fun of me because he thinks it's a super random show to be obsessed with, but I LOVE IT. It's so funny! Do any of you watch it? It's seriously my favorite show on TV right now, and that's saying A LOT cuz I watch a TON of television!
I'm on a major hummus kick and this Sabra brand is my fave! I love the original and the Roasted Red Pepper Hummus. I have been buying the little mini packs and some pita chips which have been a great lunch! I could eat a whole tub in one sitting. So good!
I got a mani/pedi on Sunday afternoon and chose Essie's "Beach Party" for my nails and OPI's "Houston We Have a Purple" from the new Texas collection for my toes. I am LOVING this color combo and will be sticking with it for a while!
And of course, these two.
Can't. Get. Enough.
Alright chicas, it's Thursday and I know you can't think of a blog topic because all you can think about is the weekend....so head on over to
Life, Love & Puppy Prints
and link up with THOUGHTS ON THURSDAY!