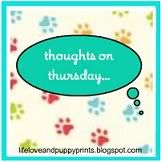 It's Thursday again, which means my BB is hosting Thoughts on Thursday!
Head on over to
Life, Love & Puppy Prints
to play along!
-The wedding is only 156 days away! Is it just me or is time FLYING by?
-It's finally feeling like summer in Minneapolis. I had my first morning by the pool on Tuesday and am already sunburned, whoops!
-I can't believe it's June already!
-I wish there was some way to get an advance on my next 30 paychecks....it would really help me out.
-I have leftover pizza for lunch today....cold pizza might be my favorite thing on the planet.
-J and I decided to make some changes financially to help us spend less money and save more. One thing we did was actually go grocery shopping, normally we just buy as we need stuff and since we rarely have a night at home together we'll each just buy our own dinners. We decided that each pay day we will go grocery shopping and split the cost (so it's fair) and so far in the last 2 weeks (beside dinner last night after his softball game) we have spent
$0
on food!!!!! Seriously, that's huge for us!
-I have the redecorating bug BAD right now! There is so much I want to do to our place, but I know I need to wait until after the wedding. Patience is a virtue.
-I'm excited for this weekend! (Who isn't? Right?)