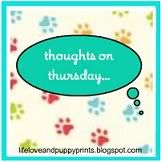 Play along with BB's Thoughts on Thursday:
Life, Love & Puppy Prints
-It's no surprise that I love my fiance, but it's the little things he does that make me crazy about him. This morning I came in to work to find some little surprises! He bought me my favorite Market Pantry sparkling water and left a note in the fridge:
I LOVE, LOVE, LOVE when he draws me pictures!
Then, I went to put the bakery out in the bakery case and found this:
In case you can't read it, it says,
"Hi Tootie! (his nickname for me) I Love You!!!!! Wanna get married???"
-I am full blown obsessed with LMFAO's "Party Rock Anthem" video! If you haven't seen it, please watch it....it's unreal. Officially one of my top 5 fave music videos ever!

-I got a new swimsuit for my Bachelorette Lake Weekend coming up in August! To say I'm excited would be a HUGE understatement!
Cute, right?
-I broke up with The Bachelorette.
I couldn't stand Ashley last season and was super bummed when she was chosen as the new Bachelorette, but, because I've never missed a season I gave her a chance. I made it through the first couple of episodes, but this week I just couldn't take it any more. She is SO whiny! And the whole Bentley thing (staged or not) was SOOOOOOOOO stupid! I watched about 15 minutes of Monday's episode then stopped it, erased it and canceled the recording. Just can't deal.
-142 days...no big deal.