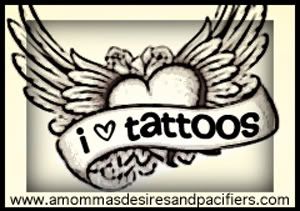 I got my tattoo in college, I think it was my junior year. I had known what I wanted and where I wanted it but I was super nervous about making that lifetime commitment. Before I got my tattoo I drew it with permanent marker and would touch it up every day for a couple of weeks to make sure I really loved it and would want it permanently. I did! I loved it!
1. I apologize for the craptastic picture
2. I don't know why it wont rotate
Anyways, it says "Agape" pronounces "AH-GAH-PEY"
It means selfless love in Greek.
I am Greek by heritage and by association (Alpha Omicron Pi). So it has double meaning for me. Agape was a part of our ritual in AOTT but more importantly I think selfless love is something that every hopes to receive and tries to give. I absolutely love it and don't for a second regret it.
I am excited to check out all of your tats!
Have a fabulous Tuesday everyone! :)