One of the traditions from Jason's family that I am really excited to incorporate into our own holiday tradition is opening jammies on Christmas Eve. Every year my mother-in-law gifts everyone in the family some new jammies then everyone changes into them and spends the rest of the night all snuggly watching Christmas movies. When I saw that some of my favorite bloggers were hosting a lil pajama party I knew it was the perfect opportunity to show off Kenley's Christmas and Christmas Eve jammies before wrapping them up and putting them under the tree.
I don't know what you mamas do to get your kids to sit still and pose in their outfits but you must be drugging them. I spent and hour of my day taking about 60 photos using Mickey Mouse, food, and sparkly stockings as bribery and I didn't get a single smile, not to mention a normal looking photo. Thankfully, the kid is pretty stinkin' cute in her jammies anyways.
Then, of course, once the jammies come off and the camera is put away she moseys over to the tree and looks absolutely adorable. Thankfully the camera is never too far out of reach.
Make sure to link up with me every Tuesday for BABY TALK! Just write a post about anything pregnancy, childbirth or parenting related and link it up with the fancy link up tool found below!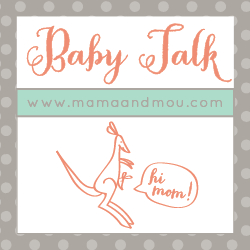 And don't forget to include by Baby Talk button in your post!